Image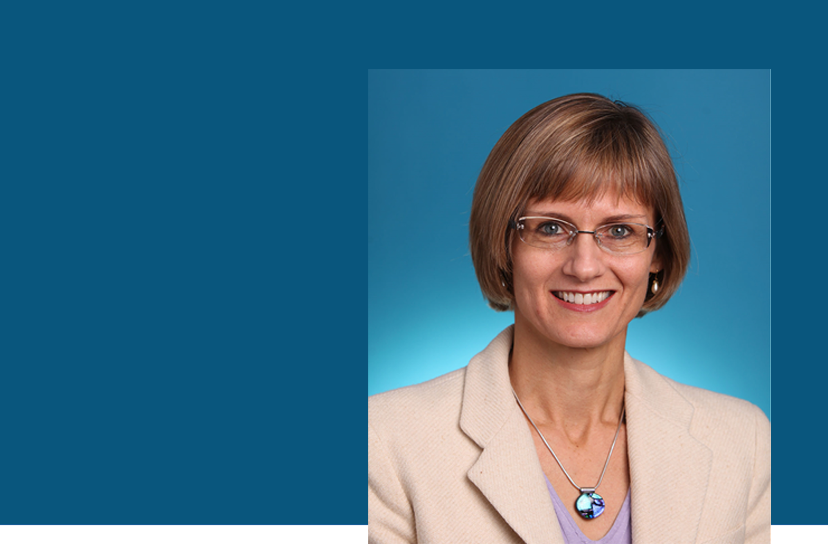 Melanie Myers: A Call for Research on Genetic Counseling Processes and Practices
Dr. Myers discusses this exciting new RFA – and how to use ELSIhub to find and follow up on funding opportunities
Melanie Myers, PhD, MS spoke with CERA staff about the new National Human Genome Research Institute (NHGRI) funding opportunity announcement for research on genetic counseling practices (RFA-HG-20-048) and the funding-related resources available on ELSIhub.
Dr. Myers is a professor in the Division of Human Genetics, Department of Pediatrics, and Co-Director of the Genetic Counseling Graduate Program at the University of Cincinnati and Cincinnati Children's Hospital Medical Center. She conducts ELSI-related research in the genetics and genomics community and is currently focused on engaging adolescents and young adults in decisions about learning genomic information. Returning genetic test results for adult-onset conditions and carrier status to adolescents presents a range of ELSI issues. However, the attitudes of young people about learning such information have largely been unexplored. Dr. Myers is evaluating the stability of their decisions over time and the impact of learning genomic results in accordance with their preferences. Beyond her research, Dr. Myers performs a variety of teaching, research and administrative roles. Among these, she teaches genetic counseling students how to conduct research that will inform genetic counseling practice and research ethics.  
CERA: As of September of 2020, NHGRI provides support for investigator-initiated research on genetic counseling processes and practices in genomic medicine via funding opportunity announcement, RFA-HG-20-048. Could you please share your reaction to this RFA?
Dr. Myers: I was thrilled! I was particularly pleased by the recognition that genetic counseling can benefit a growing number of patients and that there is a need to understand how to optimize the genetic counseling process to better serve diverse patients and the healthcare community. The focus on increasing access to racial and ethnic minority populations, underserved populations, and populations who have experienced poorer medical outcomes is particularly important as a means to address healthcare disparities. Another important area to consider in addressing healthcare disparities in a genetics-context, is increasing diversity among genetics trainees.
CERA: Do you think the focus in this RFA on research to optimize the counseling process in the context of limited resources is important or are other urgent issues in the genetic counseling context more worthy of support?
Dr. Myers: I think there are many research issues worthy of support in a genetic counseling context. If optimizing the counseling process in the context of decreasing health care disparities; increasing access and services among diverse, under-represented, and hard-to-reach communities; documenting genetic counseling outcomes; and addressing reimbursement for genetic counseling services can be accomplished, then it's a win-win-win-win scenario!  
CERA: There are a variety of ELSI-specific funding resources on ELSIhub. How do you think these could benefit genetic counseling researchers and ELSI scholars?
Dr. Myers: The Funding Opportunities database is a great resource for early, mid, and late career scholars looking for funding opportunities related to the ethical, legal, and social implications of genetics and genomics. Its an immediate "go-to" resource to find funding opportunities. I've directed post-docs and others to this website to get ideas and to identify possible funding mechanisms.
Scholars can also search the ELSI Grant Abstracts database on a topic of interest to explore what research has been, or is being, conducted on a particular topic in order to identify gaps. With abstracts dating back to 1981, it is a great resource for exploring how ELSI priorities and issues have evolved over time.
As an educator, the video archive is one of my favorite resources on ELSIhub. I love that I can bring experts from all over the U.S. into my classes to talk about various ELSI issues simply by incorporating these videos into the curriculum. I will continue to encourage genetics trainees, genetic counseling researchers, ELSI scholars and other colleagues to watch these videos to learn more about current and evolving ELSI issues in genetics and genomics. There are also grantsmanship training videos in this collection that are incredibly valuable for early career and other researchers. These grant-writing videos provide great synergy for individuals wanting to apply for a funding opportunity posted in the ELSI-specific Funding Opportunities database!
Whether you are an early, mid, or late career scholar, ELSIhub offers a host of funding resources including active requests for applications, abstracts of funded ELSI grants, sample proposals, training videos for National Institutes of Health (NIH) grants, FAQs on difficult aspects of the grant submission and review process, and web resources for grant writers. You can also search the ELSI Scholar Directory to identify collaborators for a proposal for the new RFA before the next application due date, July 8, 2021. If you would like to suggest additional funding resources for ELSIhub, you can email us at [email protected].
Tags
Keywords
Genetic Counseling
genetic counseling research
genetic counseling training