Image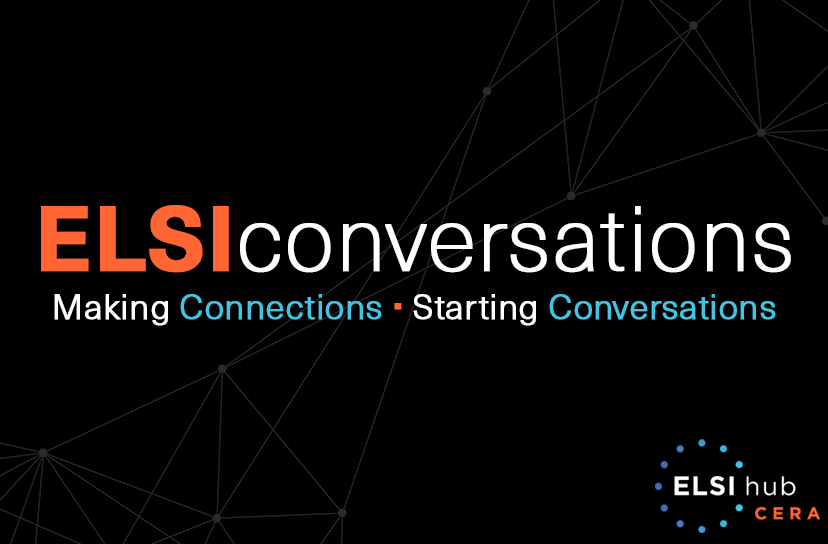 ABOUT
ELSIconversations is a series of networking events on ELSI research. Each series will bring something new to the conversation, be it a series on research methods, latest developments in a particular field, trainee presentations, or any topic suggested by our community of ELSI researchers and those with an interest in ELSI research. We hope everyone will make new connections and start new conversations on ELSI research!
To propose a new ELSIconversations event or series, please send us a brief description of the topic(s), goals, ideal audience, and how holding the ELSIconversations may benefit the ELSI community. We will review the proposal and work with you to set up logistics, including an effective format, outreach plan, and hosting of videos or outputs from the event or series.
Check back here and read the ELSIhub Newsletter to find out about upcoming ELSIconversation series!
SERIES
Series 1 - Winter/Spring 2021 -  focused on presentations that were originally accepted for the canceled 2020 ELSI Congress. The 21 participants recorded 15-minute presentations of their original research which were posted on ELSIhub. All of the videos can be accessed in the series list below and on the ELSIhub video page. The ELSIconversations were six hour-long events, organized by topic, where attendees watched the videos and then came together for discussion and Q&A with the presenters and moderators. While the ELSIconversations were not recorded, all the videos are available to view.
Series 1 - Winter/Spring 2021 Schedule and Videos
February 26 - Ethics Practices for the Direct-to-Consumer Industry
Co-Moderators: Mildred Cho and Alexis Walker  
March 5 - Community Perspectives on Recruitment to Genetics Research
Co-Moderators: Sandra Soo-Jin Lee and Michelle McGowan
March 19 - Oversight of Human-Animal Chimera Research: Views of Scientists, Researchers, Oversight Committees, and the Public
Co-Moderators: Mildred Cho and Hank Greely
March 26 - Identifying Best Practices for Clinical Genetics Delivery
Co-Moderators: Sandra Soo-Jin Lee and Barbara Biesecker
April 2 - Issues at the Intersection of Identity and Genome Science
Co-Moderators: Mildred Cho and Osagie Obasogie
April 16 - Challenges and Opportunities in Implementing Precision Medicine at the National Scale
Co-Moderators: Sandra Soo-Jin Lee and Malia Fullerton