Image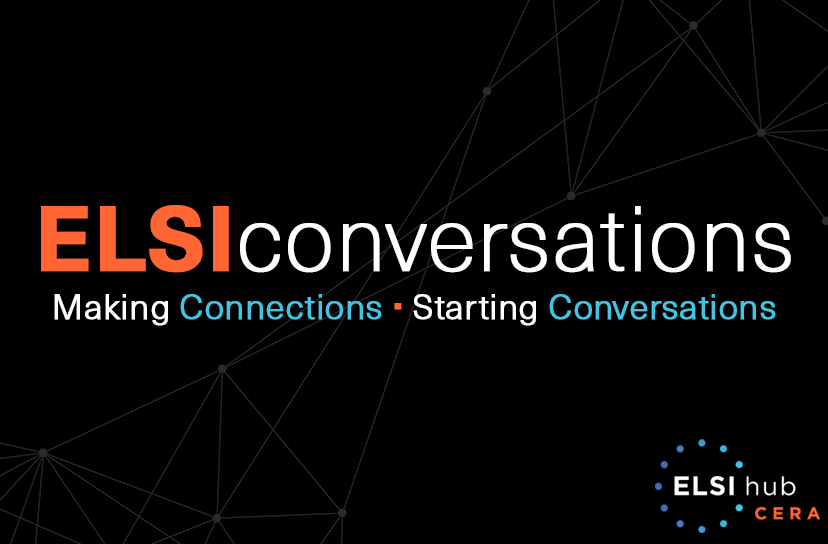 ABOUT
ELSIconversations is a series of networking events on ELSI research. Each series will bring something new to the conversation, be it a series on research methods, latest developments in a particular field, trainee presentations, or any topic suggested by our community of ELSI researchers and those with an interest in ELSI research. We hope everyone will make new connections and start new conversations on ELSI research!
To propose a new ELSIconversations event or series, please send us a brief description of the topic(s), goals, ideal audience, and how holding the ELSIconversations may benefit the ELSI community. We will review the proposal and work with you to set up logistics, including an effective format, outreach plan, and hosting of videos or outputs from the event or series.
Check back here and read the ELSIhub Newsletter to find out about upcoming ELSIconversations series!
CURRENT SERIES
"Bringing together educators and researchers for conversations about the ethical, legal, and social implications (ELSI) of genetics" is a collaboration between pgEd and CERA to present the latest ELSI research as a resource for educators to use in the classroom. Click here to watch the recording of the first event and for more information.
---
PAST SERIES
The "Ethical Topics Associated with Population Genomics Screening" networking session held by Kimberly Foss and Kate Saylor at ELSIcon2022 generated so much interest that the conversation has been continued through this three-part ELSIconversations series. Click here for event dates, details, and registration information. 
This series includes selected recordings from the 2022 ELSI Congress, grouped by topic into four one-hour discussion and networking sessions. The presentation authors will briefly recap their research at each session, followed by moderated discussion and audience Q&A.  Please register for each session separately, and watch the videos (available here) before joining.
Save the dates and register! All sessions will be held 9-10am PT/12-1pm ET. Please note: the videos will not be played at the networking sessions and are to be watched in advance. Click here for event dates, details, and registration information.
---
Spring 2022 - ELSIconversations with the Ancestry and Diversity Working Group (ADWG) of ClinGen
The initial ADWG ELSIconversations are comprised of a series of three events on population descriptors (e.g., race, ethnicity, and/or ancestry) on clinical genetics laboratory requisition forms.
We invite ELSI scholars, along with genetic and genomic researchers and those in related disciplines, to join us for these ELSIconversations and add your voice to interactive discussions of population descriptors in clinical care and genomics.
SESSION 1 - April 29: Shedding Light on the Use of Population Descriptors in Clinical Genetics - Watch the recording
Question: How is information about patient race, ethnicity, and ancestry on clinical laboratory requisition forms used in your work? In clinical genetics more broadly?
Goal: Understand context for race, ethnicity, and ancestry on clinical lab requisition forms
Speakers: 
Moderator: Mildred Cho, PhD
SESSION 2 - May 6: Utility of Population Descriptors in Clinical Genetics - Watch the recording
Question: What is the most important information, conceptually, for clinical genetics professionals to do their jobs well? Is the information always necessary; if not, when is it critical vs. extraneous? When is it potentially harmful?
Goal: Distill the most relevant information among population descriptors that serves a purpose in the clinical curation pipeline, or other clinical genetics work
Speakers:
Moderator: Shoumita Dasgupta, PhD
SESSION 3 - May 20: Revisions to Demographic Representations on Clinical Lab Requisition Forms - Watch the recording
Question: If changes to these forms were to be recommended, what are the considerations that need to be made to implement these changes? Barriers/opportunities?
Goal: Identify the considerations necessary to change these clinical forms
Speakers:
Moderator: Altovise Ewing, PhD, LCGC
---
ELSIcon2020 ELSIconverasations- Winter/Spring 2021 -  focused on presentations that were originally accepted for the canceled 2020 ELSI Congress. The 21 participants recorded 15-minute presentations of their original research which were posted on ELSIhub. All of the videos can be accessed in the series list below and on the ELSIhub video page. The ELSIconversations were six hour-long events, organized by topic, where attendees watched the videos and then came together for discussion and Q&A with the presenters and moderators. While the ELSIconversations were not recorded, all the videos are available to view.
Schedule and Videos
February 26 - Ethics Practices for the Direct-to-Consumer Industry
Co-Moderators: Mildred Cho and Alexis Walker  
March 5 - Community Perspectives on Recruitment to Genetics Research
Co-Moderators: Sandra Soo-Jin Lee and Michelle McGowan
March 19 - Oversight of Human-Animal Chimera Research: Views of Scientists, Researchers, Oversight Committees, and the Public
Co-Moderators: Mildred Cho and Hank Greely
March 26 - Identifying Best Practices for Clinical Genetics Delivery
Co-Moderators: Sandra Soo-Jin Lee and Barbara Biesecker
April 2 - Issues at the Intersection of Identity and Genome Science
Co-Moderators: Mildred Cho and Osagie Obasogie
April 16 - Challenges and Opportunities in Implementing Precision Medicine at the National Scale
Co-Moderators: Sandra Soo-Jin Lee and Malia Fullerton