Image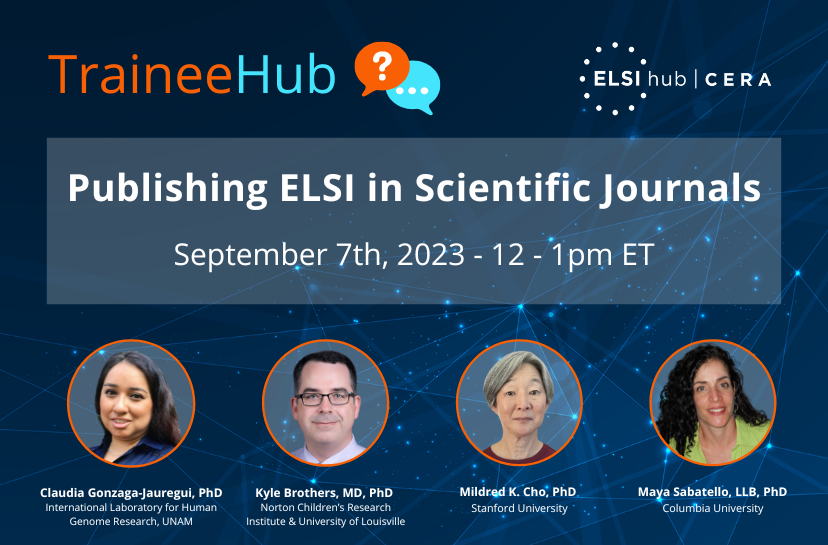 A Resource for ELSI Trainees and Early Career Scholars
TraineeHub provides a central location for networking and resources for trainees and early career scholars in ELSI research.​​​​​​ This private space is run by and for trainees and offers assistance in organizing webinars, workshops, and other events on topics chosen by the TraineeHub community. 
---
Upcoming Events
September 7th, 2023 - 12 p.m. ET - Publishing ELSI in Scientific Journals
This session is tailored to trainees and early career scholars aspiring to publish ELSI-related work in scientific and medical-oriented journals. Discussants will explore the promise and challenges of such publishing, and presentations will include topics such as: 1) possible formats for ELSI manuscripts in scientific and medical journals, 2) addressing interdisciplinary issues, such as use of medical vs. sociopolitical language and concepts, and 3) tips for best placement of articles focusing on quantitative, qualitative, and normative/policy ELSI research. Following presentations, a significant portion of the webinar will be dedicated to both moderated and live audience Q&A.
Join the discussion with panelists Claudia Gonzaga-Jauregui, PhD (Associate Editor for the American Journal of Human Genetics); Kyle Brothers, MD, PhD (Chair, Ethics Advisory Committee and ELSI Editor of Genetics in Medicine); and Mildred Cho, PhD (Genetics in Medicine ELSI Section Editor); moderated by Maya Sabatello, LLB, PhD.
---
Past Events
TraineeHub Grantsmanship Series: The Writing and Uses of Specific Aims
Date: July 19th, 2023 - 4 p.m. ET
Panelists: Rene Sterling, PhD, MHA & Amy L. McGuire, JD, PhD
Moderator: Maya Sabatello, LLB, PhD
CLICK HERE TO WATCH THE RECORDING OF THE EVENT
Publishing in Bioethics Journals - What You Need to Know
Date: June 29th, 2023 - 12 p.m. ET
Panelists: David Magnus, PhD & Holly Tabor, PhD
Moderator: Maya Sabatello, LLB, PhD
CLICK HERE TO WATCH THE RECORDING OF THE EVENT
_________
Stay in Touch
If you are a trainee or early career scholar in ELSI research, or in a related field of research (e.g. genetics, genetic counseling, bioinformatics, social sciences, public health, etc.) and have an interest in ELSI research, please join us by taking any or all of the following steps:

We welcome people in all disciplines who are interested in the ethical, legal, and social implications of genetics and genomics research!