Image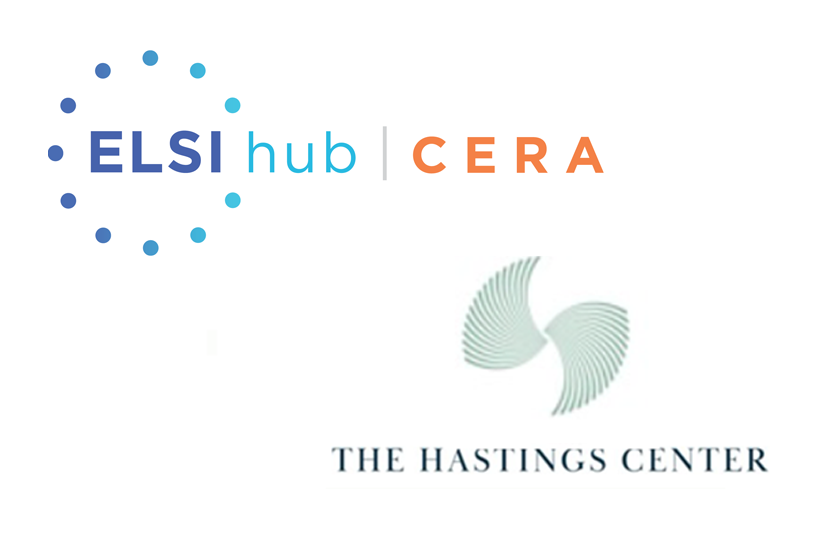 Genomics in Society: New Developments, New Questions: Discussions with Journalists
SERIES INFORMATION
Journalists, journalism students, and journalism educators: please join us on for a series of discussions on "Genomics in Society: New Developments, New Questions"
The Hastings Center, in partnership with the Center for ELSI Resources & Analysis (CERA), is hosting four online discussions to inform journalists about the ethical, legal, and social implications (ELSI) of new research in genomics; discuss story ideas on genomics and its ELSI issues; and connect journalists and ELSI experts and resources. 
---
Join us on Oct 26, 1:30-2:30pm ET for
Law Enforcement and Genetic Data
DNA has been a powerful crime-solving tool for decades, but law enforcement's ability to harness it for investigative purposes has grown immensely in recent years. This is due primarily to the massive amount of genetic data now housed in both government-run and private databases, as well as the emergence of new techniques to exploit these vast resources. DTC genetic testing expands the power of forensic searches. Law enforcement access to personal or family genetic information raises ethical concerns. Yet, neither the collection of genetic samples nor their analysis or use by law enforcement has been subject to significant regulation in the U.S. What limits, if any, should be placed on law enforcement's access to DNA data from DTC companies, health care providers, and researchers?
Moderator: Sarah Zhang, staff writer, The Atlantic covering science
Panelist: Ellen Wright Clayton, an internationally recognized leader in the field of law and genomics who holds appointments in Vanderbilt University's medical school and law school, as well as the Center for Biomedical Ethics and Society. She is a Hastings Center fellow
Panelist: CeCe Moore, chief genetic genealogist for Parabon Nanolabs, heading the Genetic Genealogy Services for law enforcement unit
Please email [email protected] with any questions
---
FUTURE EVENTS  
(information and registration will be posted here and sent out before the event- please email [email protected] with any questions)
Precision Medicine Research, "All of Us", and Inclusion – November 16
Addressing Racism in Medical Research and Publishing – November 30
---
PAST EVENTS & RECORDINGS
"Genomics, Human Behavior, and Social Outcomes" was held on October 12, 2021 - please watch the recording here
New research on genomic influences on human traits such as intelligence, educational attainment, household income, and sexual behavior is newsworthy and of high public interest. But covering the research findings can be a minefield. The findings are prone to misinterpretation and misunderstanding. And they are already being misused by individuals and groups seeking to justify racist and other biases. The need for responsible journalism about genomics research is greater than ever. How should scientists and journalists work together to report on the findings of this research to the public?"
Moderator: Amy Harmon, Pulitzer prize-winning journalist at the New York Times covering the intersection of science and society.
Panelist: Erik Parens, a principal investigator of  "Wrestling with Social and Behavioral Genomics" and a senior research scholar at The Hastings Center
Panelist: Melinda Mills, a genetic scientist at the Sociogenome Project and director of the Leverhulme Centre for Demographic Science (LCDS), University of Oxford
Panelist: Arbel Harpak, Assistant Professor of Population Health and Integrative Biology at the University of Texas at Austin
---
Beginning in 2021, The Hastings Center will offer an annual "bioethics for journalists" discussion series. It is supported by the Callahan Public Programs, named in honor of Daniel Callahan, co-founder of The Hastings Center. Each year, Hastings will join forces with a prominent partner to bring the most cutting-edge ethical issues in science and health to journalists.
Tags
Keywords
ELSI
Journalism
Sociogenomics
Behavioral genomics
forensic DNA
Precision Medicine Initiative
structural racism
racism in medicine. medical research, and publishing