Image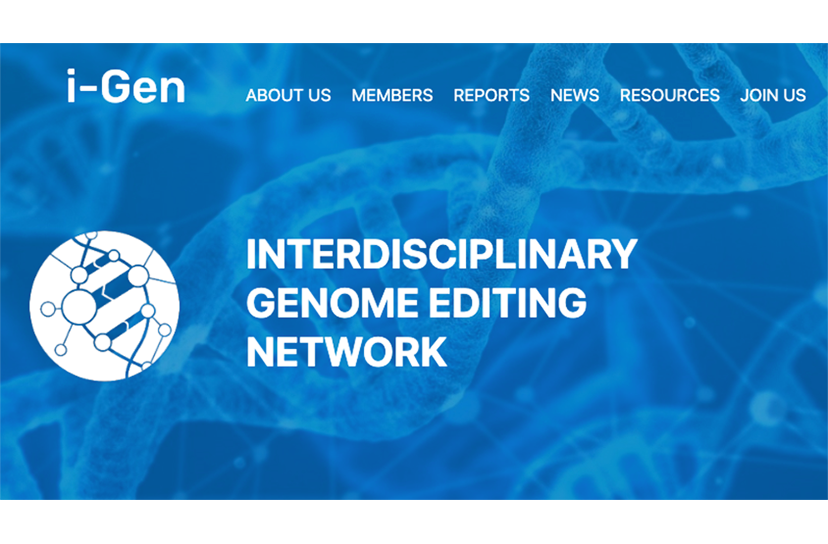 Title
I-GEN: The Interdisciplinary Genome Editing Network
"Genome editing" describes a set of techniques in molecular biology that allow scientists to modify DNA  to add, remove or change sequences of genetic material. Genome editing can be understood as a platform or 'gateway' technology. By allowing human intervention in the basic biology of living organisms, the tools and techniques of genome editing open up a range of applications in diverse areas.  These include human health and reproduction, the development of genetically modified plants and animals in agriculture and environmental management, industrial applications (such as modified single cell organisms to produce useful materials), military and bio-warfare applications, and even information storage. Moreover, the ease of use of tools such as CRISPR/cas9 has opened up the possibility of genome editing activities outside formal laboratory spaces, for example by bio-artists and so-called 'do-it-yourself' biologists.
With such a variety of potential uses, and further developments almost certainly in store as genome editing is integrated with other bio- and digital technologies, it is not surprising that genome editing also raises a host of ethical, legal, social, political and economic issues. In some cases genome editing brings new urgency to longstanding debates, such as those around germline genetic modification, human enhancement, or Genetically Modified Organisms. Other areas of application raise newer, but no less difficult or pressing questions, as with the use of gene drives to control entire populations of organisms.
The scope of genome editing activity is global, spanning multiple scientific fields and a vast number of academic and commercial institutions. This can make it very challenging for scholars, experts, policy makers, educators, non-governmental organizations, charities and other societal groups with a stake in how genome editing is applied, to keep up to date with the ever-changing landscape of genome editing research.
I-GEN, the Interdisciplinary Genome Editing Network, was founded to address the challenges of mapping the breadth of genome editing research work, connecting academics including from different parts of the world as well with different stakeholders in society to support dialogue.  
I-GEN is an international network of researchers and experts, whose work, collectively addresses the many different dimensions of genome editing and its application in different areas of human activity from medicine to agriculture. For that I-GEN hosts information about academics working on all aspects of governance, ethics, politics, and societal impact of genome editing in a searchable, accessible online database. This will enable relevant discipline and country-specific ELSI expertise- and experts to be discoverable by other academics, policy makers, journalists, educators, civil society organisations, and anyone else who might benefit from it. The aim is to support direct, relatively frequent collaborations and interactions. The I-GEN database is already up and running on the network website: https://i-genomeeditingnetwork.org/
The network was founded as a collaboration between the Centre for Philosophy of Sciences of the University of Lisbon (CFCUL), at the University of Lisbon and the Centre for Health, Law and emerging Technologies (HeLEX) at the University of Oxford. Dr Mara Almeida (Lisbon) and Dr Michael Morrison (Oxford) currently operate it. Although still relatively small, the network is already attracting interest and we hope it will grow to become an indispensable resource that can sit alongside, and complement existing endeavours such as ELSIHub.
The network is completely non-profit, voluntary, and free to join. There are no membership fees or any other costs. We are currently inviting all manner of ELSI scholars with an interest on any aspect of genome editing to join and become a member of I-GEN. We take a very broad definition of what kinds of expertise are relevant including philosophy and ethics, law and regulation, political science, economics, anthropology, sociology, science communication and public engagement, Science and Technology Studies, et cetera, as well as medical and life scientists working on genome editing who have an interest in the ELSI aspects of their work. The main interest of the network lies on bringing together researchers and experts working in the field of genome editing around the world and establish an international platform that can support exchange between members as well with society. In doing so we intend to contribute to an inclusive and democratic debate around the issues associated with the new genome editing technologies among key stakeholders, including scientists, clinicians, bioethicists, policymakers and the wider society. 
 Joining I-GEN is easy. Simply drop Michael ([email protected]) or Mara ([email protected]) an email and we will send you a spreadsheet to collect your details ready to upload to the online I-GEN database.