Image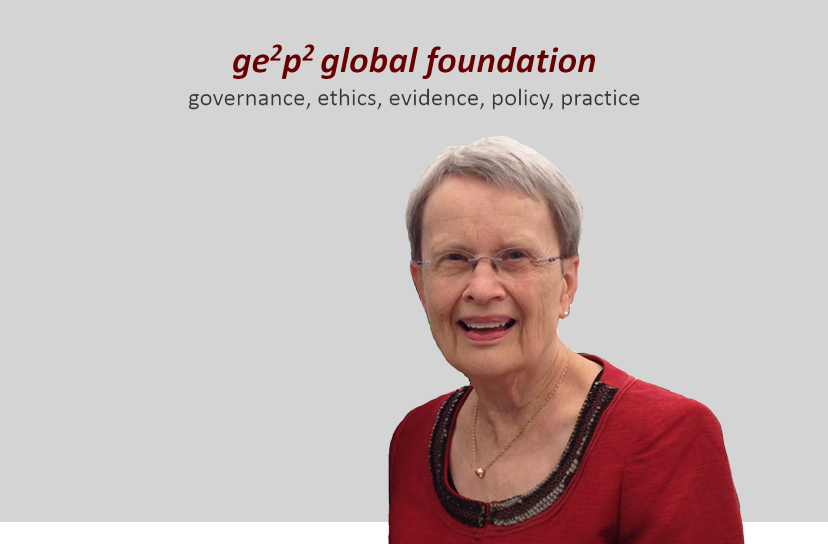 Informed Consent in Genomic Medicine – Strengthening Assessment, Ethical Resilience, Practice
The GE2P2 Global Foundation – a 2016 spin-off from the Division of Medical Ethics, NYU School of Medicine – has launched a multi-year initiative to assess and materially strengthen informed consent in genomic medicine. The Foundation's Center for Informed Consent Integrity is supporting this effort led by co-PIs Barbara Redman, PhD, MBE, a Senior Fellow of the Foundation, and David Curry, its President.
The initiative's vision is to develop a global framework for informed consent practice in genomic medicine, initially focused on gene therapy development and clinical translation. We intend to develop a framework which is medically responsible, operationally sound, ethically resilient, and supported by a toolkit of open-source IC templates, content modules and assessment strategies.
Why are we so focused?
For us, compelling rationales include [1] the nature and irreversibility of the interventions generally involved in gene editing/gene therapy, [2] the long-term follow-up periods involved for trial participants, and [3] the typical age ranges [skewed to children/minors who cannot directly consent] of those involved in trials and who will benefit from clinical availability. Equally, we recognize the veritable explosion of trials and development activity in the gene therapy space globally, with hundreds of the organizations involved still early in their growth and capacity.
What are the expected outcomes/end-points?
We are taking a very practical, "implementable solutions" approach to the project over the next few years. We want to:
Conduct a systematic comparative assessment of IC practice across the gene therapy development life cycle including long-term follow-up [LTFU] in collaboration with sponsors/trail sites representing diverse disease areas/modalities/geographies
Actively engage patients/patient advocacy groups and other stakeholders in defining IC practice and metrics for gene therapy/genomic medicine
Refine a robust model of the full IC life cycle and key interventions/assessment points from trial protocol/ICF template development to trial site/IRB-IEC refinement to direct consenting activity to clinical and LTFU contexts
Develop a toolkit of IC principles, templates, content building blocks and communications techniques, and assessment approaches [open source], and
Actively pilot the above principles/templates/toolkits in new trials, LTFU, clinical contexts, etc. enabling further  assessment/refinement.
We recognize how aspirational these end-points are and how challenging achieving them will be!
How are developers/sponsors/industry responding?
The Alliance for Regenerative Medicine [ARM] has provided enthusiastic support to date, including this project in the program of work of its Gene Editing Task Force, co-chaired by Sandy Macrae [Sangamo Therapeutics] and Rachel Haurwitz [Caribou Bioscience]. The Task Force has generously included agenda time and updates on the project over the last year, providing a unique channel for recruiting member companies to join the project by providing ICF materials, protocols, trial site connections and other support to drive key elements of the project. This recruiting continues and we are open to any expression of interest to collaborate around informed consent in the gene therapy space!
Does the project have an advisory panel or other oversight?
We are honored to have a global advisory panel to help guide the project as we navigate the "unchartered waters" ahead:
Dr. Anant Bhan, Adjunct Professor, Yenepoya (University), Mangaluru, India, Department of Health Research, Government of India - Gene Therapy Advisory and Evaluation Committee (GTAEC)
Barbara E. Bierer, MD, Professor of Medicine, Harvard Medical School and Brigham and Women's Hospital, Boston, Director of the Multi-Regional Clinical Trials Center (MRCT Center)
Prof. Dr. Dirk Lanzerath, Secretary General, European Network of Research Ethics Committees (EUREC) EUREC Office, University of Bonn, Germany
Jantina de Vries, DPhil,  Associate Professor in Bioethics, Department of Medicine of the University of Cape Town, South Africa, Co-PI of the H3Africa ELSI Collaborative Centre
Benjamin S. Wilfond, MD,  Professor and Chief, Division of Bioethics; Professor, Pulmonary and Sleep Medicine, Department of Pediatrics; Adjunct Professor, Department of Bioethics and Humanities, University of Washington School of Medicine
Where are you getting funding/financial support?
The initial phase of the project was supported by a generous grant from Sangamo Therapeutics and interim funding is being provided by the GE2P2 Global Foundation. We are actively seeking support from foundations, private donors and industry to take us through the 2023 project time window.
How can we get involved?
This project is obviously complex and will involve stakeholders of all kinds, particularly trial participants, patients, and patient advisory groups [PAGs]. If you or your organization wishes to explore a role or collaborate in some way, please contact us as below:
David R Curry
President, GE2P2 Global Foundation
mobile:[US] +1.267.714.4460  |  email: [email protected]