Image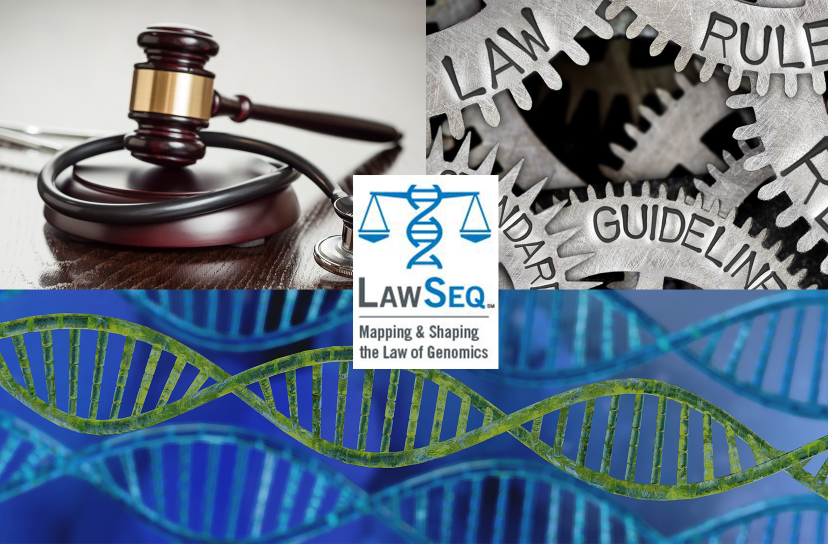 LawSeqSM: Confronting the Legal Barriers to Genomic Medicine
On December 2, 2020 national experts convened for a Zoom webinar on "LawSeqSM: Facing the Legal Barriers to Genomic Research & Precision Medicine." This event grew out of a project funded by the National Human Genome Research Institute (NHGRI) and National Cancer Institute (1R01HG008605) to identify and address the legal barriers to successful integration of genomics into clinical care. Genetics and genomics are increasingly crucial to clinical care. Unfortunately, law lags behind science and remains unclear, creating significant barriers to progress in genomic medicine. 
The goals of the LawSeqSM project have been to map the law of genomics in the United States, empirically investigate stakeholder views of the need for change in genomics law, and pursue a structured consensus process to generate constructive recommendations for change. As the Principal Investigators of this project, we have collaborated with a highly interdisciplinary Working Group comprised of 22 experts (half of them legal experts, and the other half experts in genomic research, clinical care, laboratory processes, and informatics). The full Working Group roster, plus links to project publications and events, is posted here. One of the project's most important products is the LawSeqSM online database – allowing users to search federal and state statutes, regulations, and reported case law on genomics. This online tool complements NHGRI's searchable database of state statutes and bills on genetics.   
The December 2 webinar was the third event produced by the project. Prior events include a conference held in November 2018 at Meharry Medical College on "Law, Genomic Medicine & Health Equity: How Can Law Support Genomics and Precision Medicine to Advance the Health of Underserved Populations?" Speakers included Dayna Bowen Matthew, JD, PhD; Consuelo Hopkins Wilkins, MD, MSCI; Nanibaa' A. Garrison, PhD; Shawneequa Callier, JD, MA; Wylie Burke, MD, PhD; and Jennifer Wagner, JD, PhD. That conference culminated in a 2019 symposium in Ethnicity and Disease edited by Marino A. Bruce, PhD, MSRC, MDiv, CRC; Vence L. Bonham, JD; and Susan M. Wolf, JD.
At a subsequent conference in April 2019 , the LawSeqSM project presented the draft conclusions of our project task forces for public feedback. Our four task forces focused on the liability risks raised by genomics, how the U.S. Food and Drug Administration (FDA) and other authorities are approaching the quality of genomic analysis and interpretation, state and federal law governing access to genomic information and privacy protections, and confusion in the law when translational genomics integrates legally distinct domains such as research, clinical care, public health screening, and direct-to-consumer (DTC) services. Conference presenters included James P. Evans, MD, PhD; Mark Barnes, JD, LLM; Pilar Ossorio, PhD, JD; Bonnie LeRoy, MS, CGC; Bradley Malin, PhD; and Barbara J. Evans, JD, PhD, LLM – all of whom were LawSeqSM Working Group members. The task force articles were published in a 2020 symposium in the Journal of Law, Medicine & Ethics, which we co-edited, and in a 2019 issue of the Journal of Law and the Biosciences. 
The December 2 webinar convened top experts from academia, legal practice, clinical practice, regulation, and industry to identify the most pressing legal issues that continue to slow successful integration of genomics into clinical care. Gail P. Jarvik, MD, PhD, and Mark Barnes, JD, LLM, offered starting plenaries. Three panels followed. In the first panel, an interdisciplinary group of experts added their perspectives on the most pressing legal and policy issues confronting genomic research and clinical care. The second panel focused on issues in FDA regulation of genomic devices, software, and interpretive algorithms. The third panel addressed genomic data governance, including data access and use by research participants, patients, and families. Webinar presenters included LawSeqSM Working Group members as well as experts such as Alberto Guttierez, PhD, and Elizabeth Mansfield, PhD, both formerly at the FDA; Michael Hamilton, JD, at Invitae and Erik Phelps, JD, at Tempus; and Wendy K. Chung, MD, PhD, at Columbia University and Barbara E. Bierer, MD, at Brigham & Women's Hospital and Harvard Medical School.     
The December 2 event was presented by the Consortium on Law and Values in Health, Environment & the Life Sciences at the University of Minnesota in collaboration with Ropes & Gray, LLP; Hyman, Phelps & McNamara PC; and Vanderbilt University Medical Center. The video of the event is available here.
Through events, publications, creating the online LawSeqSM database, and multiple presentations, the LawSeqSM project has sharpened understanding of the legal issues confronting genomics researchers, clinicians, laboratories, participants, and patients. By collaborating within and beyond our multidisciplinary project group, we continue to advance solutions. Realizing the full benefit of genomics and precision medicine requires not only scientific advances and clinical implementation, but also new approaches to regulatory oversight and progress in the law of genomics, which can build on this firm foundation.
 
Tags
Keywords
GENETIC engineering laws
LawSeq
Statutes and Laws
genetic privacy law