Image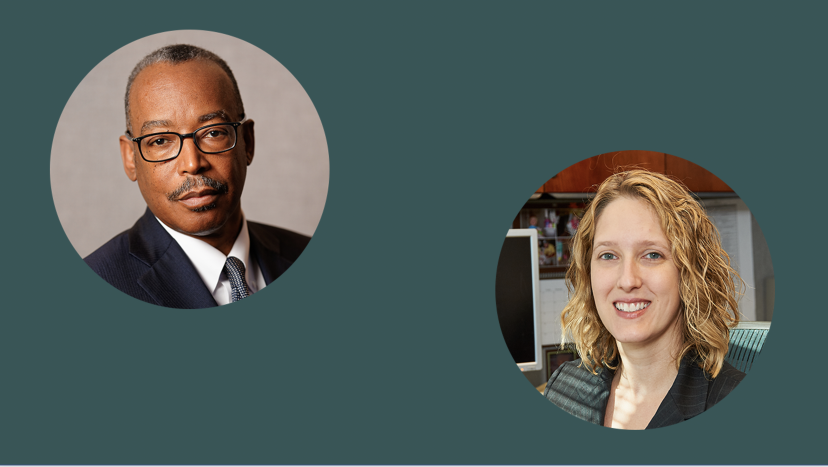 NHGRI Commits to Workforce Diversity
Since 2002, the National Human Genome Research Institute (NHGRI) has funded programs to diversify the demographic composition of the genomics workforce. In 2020, the institute enhanced its commitment to this strategic imperative. CERA staff spoke with Vence Bonham Jr., JD, Acting Deputy Director, NHGRI, and Associate Investigator, Social and Behavioral Research Branch, NHGRI Intramural Research Program, and Nicole Lockhart, PhD, Program Director, Division of Genomics and Society, NHGRI, about Building a Diverse Genomic Workforce: An NHGRI Action Agenda, a 10-year commitment to recruit, develop, and retain research and clinical genomics workforces that include representatives from all sectors of the U.S. population, especially those that are underrepresented in the genomics enterprise. We focused our conversation on the opportunities for the ELSI scholarly community that are related to this initiative.
Vence Bonham has been a member of the ELSI scholarly community for more than twenty-five years. As a faculty member at Michigan State University and in his current role as an NHGRI intramural investigator, his research program has focused on the equitable integration of genomics into clinical care and society. Working as the inaugural Branch Chief of Education and Community Involvement Branch at NHGRI, Mr. Bonham partnered with ELSI scholars on community-based projects with diverse communities across the country. He also focused on health equity issues in his role as Senior Advisor to the NHGRI Director. Today, he leads the effort to increase diversity in the genomic workforce at NHGRI (including in the ELSI workforce) and works to expand the health equity focus in its research portfolio. Nicole Lockhart is one of four Program Directors supporting the ELSI Research Program at NHGRI. She supports the ELSI research community by developing research and training initiatives, providing pre- and post-award scientific guidance to investigators, and monitoring the programmatic, scientific, and/or technical aspects of ELSI research grants. Dr. Lockhart reports that discussing research projects prior to grant submission and after peer review with ELSI scholars and trainees is one of the most interesting parts of her job.
The NHGRI 2020 Strategic Vision calls for enhanced diversity in the genomics workforce, inclusion, and equity in the field of genomics, and increased health disparities research. How do you expect these goals to be implemented at the institute in the next few years?
Mr. Bonham: One of the initial steps NHGRI took after the release of the 2020 Strategic Vision was to release Building a Diverse Genomic Workforce: An NHGRI Action Agenda and an accompanying commentary. This Diversity Action Agenda details a set of ambitious goals, objectives, and implementation strategies for increasing the diversity of the workforce. In October of 2021, NHGRI announced the formation of the Training, Diversity and Health Equity Office (TiDHE). This new office aims to develop and support initiatives that expand opportunities for genomics education and careers, formulate genomics training programs and workforce development for underrepresented groups, and promote genomics research to improve minority health and reduce health disparities. The implementation of the Diversity Action Agenda and establishment of the TiDHE Office will actualize the goal of enhancing the diversity of the genomics workforce in the coming years.
What opportunities do you see for the ELSI Research Program to advance the broader NHGRI diversity strategy?
Mr. Bonham: The ELSI program is in a prime position to enhance the diversity of the genomic workforce. I look forward to working with the ELSI community of scholars in my role as Deputy Director to develop inclusive and innovative programs that help achieve this goal. We must invite students, postdoctoral fellows, and early-career researchers from various disciplines and backgrounds into our research teams and community. I believe there are opportunities for the ELSI scholarly community to work with NHGRI and NIH in our mission to foster health equity and challenge us to truly enhance the diversity of the genomic disciplinary fields, including ELSI. I truly believe that now is the time to make a transformative change in our field of science.
Dr. Lockhart: I completely agree with Vence. At NHGRI, we view the ELSI research community as an integral part of the broader genomics research community and believe close partnership and meaningful collaboration across disciplines is critical. Like the genomics research community, the ELSI research community can benefit from increased diversity. This will ensure that a broad range of perspectives and lived experiences inform: 1) what ELSI research questions are asked, 2) how those questions are framed, and 3) how the answers to those questions are interpreted and used. ELSI scholars can also highlight and support the use of the existing, rich literature by the community that examines the negative implications of the longstanding misuse and misinterpretation of race and ethnicity in genomics research. In addition, we could benefit from more ELSI work that explores how to best ensure that genomics advancements are equitably available across the many groups who could benefit from them. This work includes ensuring that a variety of voices—especially those from underrepresented, underserved, and/or mistreated communities—are engaged and inform the way that genome science advances.
You mentioned that NHGRI recently created the Training, Diversity and Health Equity Office (TiDHE). What are the origins of this idea and how will the TiDHE Office advance the diversity and health equity goals of the institute?
Mr. Bonham: The TiDHE Office was formulated as a direct response to the implementation of the 2020 Strategic Vision and the Diversity Action Agenda. These documents describe plans to move the institute forward by increasing the diversity of the genomics workforce and ensuring that there is more diversity in genomic studies where equitable health outcomes are concerned. Centralizing the focus of training, workforce diversity, and health equity programs into this office was an easy decision. This office plans to work across the institute, the NIH, and with external partners to support the NHGRI strategic vision. We are developing several programs and activities to engage organizations, institutions, and groups that have not always been involved in research and training programs at NHGRI.
How does the TiDHE Office define "health equity"? How will we know when this goal has been achieved?
Mr. Bonham: Health equity means that all people have a fair and just opportunity to be as healthy as possible. It also means eliminating disparities and social determinants of health for underrepresented groups so that they can achieve their full potential for health and well-being. It will be hard to know when this goal is achieved, but the TiDHE Office plans to create tangible measurements to track the progress that it has made in the research community over time.
Do these new initiatives create any funding opportunities for ELSI scholars?
Dr. Lockhart: NHGRI has several new funding opportunities for training and individual research projects which are open to ELSI researchers. In terms of training, the new GREAT Program (Next due date, July 1, 2022) will support collaborative institutional partnerships between minority-serving institutions (MSIs) or Institutional Development Award (IDeA)-eligible institutions and Research Intensive institutions to provide undergraduates from diverse backgrounds with research training and career development experiences in all areas of genomics research, including ELSI. NHGRI also is supporting ELSI research under a new F99/K00 (Next due date, April 8, 2022). This award to individual scholars has two phases. It facilitates the completion of a doctoral dissertation (F99) and the transition to a strong postdoctoral research position (K00). For individual research support, NHGRI has a new R01 funding opportunity to support Early Stage Investigators and New Investigators from diverse backgrounds.
In addition to funding opportunities, the ELSI Research Team at NHGRI recently updated our website to include additional examples of ELSI topics that address issues of diversity and justice. We hope these examples will encourage ELSI scholars and genomics researchers to think innovatively about ways they can advance our understanding of the importance of diversity, equity, and inclusion in the field.
---
For answers to questions about the funding opportunities mentioned in this article or any others, please reach out to the "Scientific/Research Contact" listed at the end of the funding opportunity announcement. You can explore the Funding Opportunities database on ELSIhub for more opportunities to support your research or training and watch training videos to learn how to prepare an ELSI research proposal for submission to NHGRI. If you would like to see abstracts and funding details for projects that have been funded by the ELSI Research Program at NHGRI, you can keyword search the ELSI Grant Abstracts database. You can also reach out to us at [email protected] if you would like to share information about opportunities or events at your institution with the ELSI community.
Tags
Keywords
ethnic and racial diversity
workforce diversity
National Human Genome Research Institute (NHGRI)