Image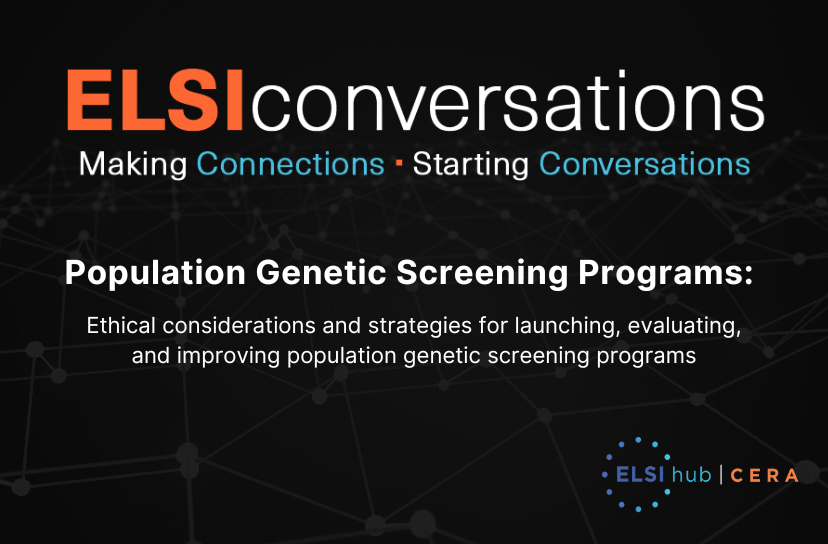 Title
ELSIconversations on Population Genetic Screening Programs
Ethical considerations and strategies for launching, evaluating, and improving population genetic screening programs 
At the ELSI Congress in June 2022, genetic counselor Kim Foss and ELSI scholar Kate Saylor led a dynamic networking session on "Ethical Topics Associated with Population Genomic Screening". Participants were eager to expand on some of the key issues that arose during that session. This series features 3 interactive discussions built on the ELSIcon2022 networking session.
Session 1: Illuminating Ethical Issues Encountered in Population Screening Programs
Date: January 20, 2023 12-1 pm ET
Speakers: Aaron Goldenberg, PhD, MA, MPH & Amy Sturm, MS, CGC, & Adam Buchanan, MS, MPH, CGC
Moderator: Kim Foss, MS, CGC 
In the first of three sessions, panelists with experience with population genetic screening programs discussed issues that have arisen with existing screening programs. Topics included ethical and equity considerations of informed consent, defining utility, selecting genes of interest, and managing downstream care. Recognizing that many people in the audience will also have relevant experience, everyone will be invited to share their experiences and concerns through live discussion with the panelists and through an online whiteboard. 
CLICK HERE TO WATCH THE RECORDING OF THE EVENT
Session 2. Constructing Strategies to Address and Assess Equity, Outreach, and Impact 
Date: January 27, 2023 12-1 pm ET
Speakers: Amy Lemke, PhD, MS & Yue Guan, MB, PhD, ScM
Moderator: Kate Saylor, PhD
The second session highlighted strategies and solutions to some of the issues raised in Session 1. There was specific focus on community engaged research and implementation strategies that target equity and community-specific needs. Audience members were again invited to share their own experiences of what strategies have worked well and attempts that have been less successful. 
CLICK HERE TO WATCH THE RECORDING OF THE EVENT
Session 3. Responsible Stewardship: Establishing Standard Data Elements and a Community of Practice
Date: February 3, 2023 12-1 pm ET
Speakers: Alanna Rahm, PhD, MS, LGC & Megan Roberts, PhD
Moderator: Kim Foss, MS, CGC
In the final session, panelists lead the charge for establishing a community of practice that is best able to share experiences across programs. Topics included key data elements, reporting and sharing, promoting equity through knowledge sharing, and ensuring program sustainability. This session was forward-looking, with the goal of generating ideas for building a community of health services researchers, program directors, clinicians, and ELSI researchers who care about promoting ethical implementation of population genomic screening.