Main Working Group Title

2020-2022 CERA Working Groups
Description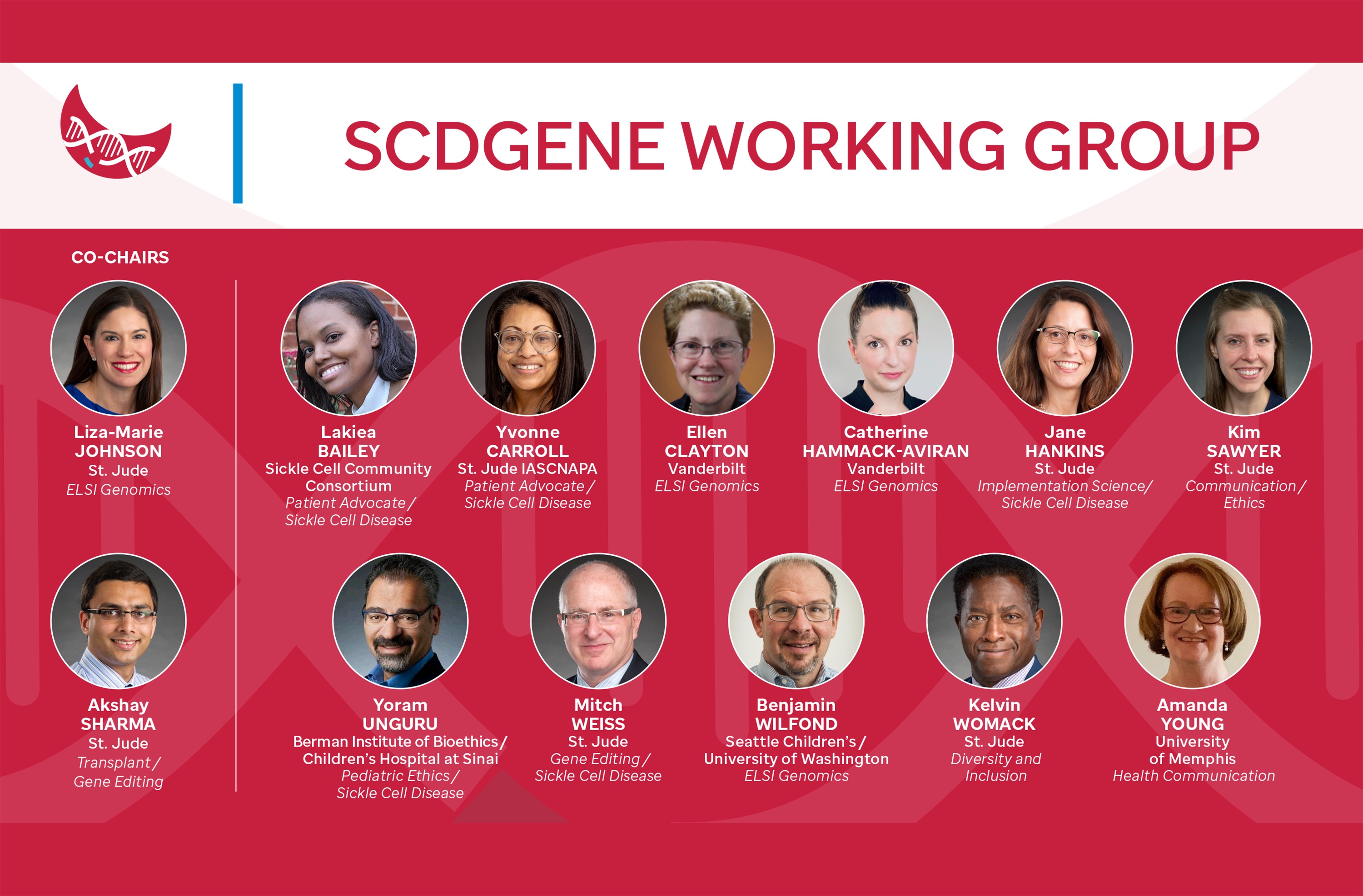 Sickle Cell Disease (SCD) is an inherited blood disorder that results in severe morbidity. SCD negatively impacts the quality of life of millions of people and results in premature death for thousands of afflicted individuals worldwide. Individuals with SCD form abnormal, sickle-shaped red blood cells. Because these cells are stiff and break down easily, they can contribute to both anemia and microvascular occlusion, which in turn can cause tissue ischemia, endothelial damage, and eventually, multiorgan failure. Clinically, individuals with SCD suffer a wide spectrum of debilitating morbidities including severe pain crisis, acute chest syndrome (pneumonia), and splenic sequestration. They also have an increased risk of infections, gall stones, and stroke.
Presently the only available 'curative therapy' for SCD is bone marrow transplantation with a matched sibling donor. However, this option is available to less than 20% of affected individuals. There are several drugs available for medical management, but they are not effective for everyone, need to be taken regularly and on a lifelong schedule, and have undesirable side effects. As a result, novel therapies to treat and cure SCD are urgently needed. Research to improve SCD therapies is a priority for the National Heart, Lung, and Blood Institute (NHLBI). Clinical trials using new methods of genetic manipulation are ongoing in patients who have severe disease and organ dysfunction. However, after the safety of these therapies has been demonstrated, it would be most desirable to treat children, adolescents, and young adults (AYA) before the onset of irreversible organ damage.
Expanding the availability of novel, potentially first-in-human clinical trials to children and AYA with SCD poses unique ethical challenges. This is particularly so given that SCD predominantly affects a racial minority and socioeconomically disadvantaged patient population that has been underrepresented and historically mistreated in clinical research. For this reason, several groups including this CERA Working Group (SCDGENE), believe that it is imperative to meaningfully engage AYA and parent stakeholders throughout the process of clinical trial design, including the early stages.
The 2017 National Academies of Sciences, Engineering, and Medicine (NASEM) report on human gene editing called for public engagement for the purpose of, "monitoring public attitudes, information deficits, and emerging concerns." Parents of children with SCD and AYA with SCD are central stakeholders in this conversation. The NASEM recommends that clinical applications of gene editing adhere to several principles including due care, respect for persons, and transparency (defined as "sharing of information in ways that are accessible and understandable to stakeholders"). Previous research by the SCDGENE co-leaders Drs. Akshay Sharma and Liza-Marie Johnson found that many patients with SCD have low health literacy and a limited understanding of novel therapies for SCD, especially gene therapy.
As gene therapy and novel methods of bone marrow transplantation using alternative donors move into early-phase clinical trials, there is a great opportunity to optimize understanding, improve communication, enhance clinical trial education, and optimize informed consent for parent and AYA stakeholders. SCDGENE is collaborating with a Family Advisory Panel (FAP) comprised of patient, parent and AYA stakeholders using a community based participatory research approach. This collaboration involves the conduct of focus groups with the FAP that are designed to elicit attitudes about and identify knowledge gaps around emerging high-risk, high reward interventions, such as gene therapies.
Preliminary findings from the first set of FAP focus groups were presented in an oral presentation at the American Society of Hematology's Annual Meeting in December 2021. Also based on these findings, SCDGENE is preparing a qualitative manuscript to communicate the recommendations of FAP stakeholders and developing and testing educational content and communication tools that honor the NASEM goals for gene therapy research. In the future, SCDGENE will seek ongoing support to sustain the FAP.
Akshay Sharma, MBBS, Co-leader, (Gene therapy for sickle cell disease expert, St. Jude Children's Research Hospital, Memphis TN)
Lakiea Bailey, PhD (Executive Director, Sickle Cell Community Consotium, Inc.)
Yvonne M. Carroll, RN, JD (Patient Advocate and President of the International Association of Sickle Cell Nurses and Professional Associates (IASCNAPA), St. Jude Children's Research Hospital)
Jane Hankins, MD (Hematology, St. Jude Children's Research Hospital)
Kimberly Sawyer, MD (Bioethics, Baylor College of Medicine, Houston TX)
Yoram Unguru, MD, MS, MA (Bioethics, Johns Hopkins Berman Institute of Bioethics, Baltimore MD)
Mitchell Weiss, MD, PhD (Chair, Hematology Department, St. Jude Children's Research Hospital)
Benjamin Wilfond, MD (Bioethics, Seattle Children's Hospital and Research Institute, University of Washington School of Medicine, Seattle WA)
Kelvin Womack (Vice President for Diversity and Inclusion, , St. Jude Children's Research Hospital)
Amanda Young, PhD (Health Communication, University of Memphis, Memphis TN)
Title

Oral presentation at the American Society of Hematology's Annual Meeting
Title

Engaging the Sickle Cell Community in Participatory Research
Description
Yvonne Carroll, JD, RN, a SCDGENE Working Group Member and facilitator of the Advisory Council, wrote this commentary on community participatory research.
Title

"Something with a Frightening Reputation": 60 Minutes' Accommodation of HIV in Gene Therapy for Sickle Cell Disease
Description
Dr. Amanda Young, a SCDGENE Working Group Member co-authored this manuscript in which she and Craig O. Stewart, PhD, examine how the use of language contributed to mistrust and misunderstanding about gene therapy among SCD patient stakeholders.